Münster's Marketing Students explore the Value Potential of the Metaverse, in Virtual and Physical Worlds!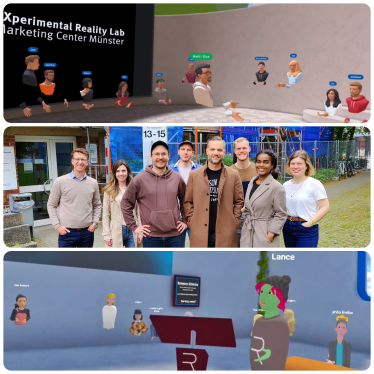 Münster's marketing students recently delved into the potential value of the metaverse as part of their seminar on "Metaverse Marketing" hosted by Ronny Behrens, Philo Freiboth, and David Jütte from the Chair of Marketing and Media. The first part of the seminar comprised three events, featuring industry experts who discussed distinct aspects of the metaverse.
The first event highlighted the metaverse's potential as a tool for remote collaboration and work, and was held in Glue. Matti Pouhakka, the platform's sales director, welcomed the students and discussed the company's history and ambitious plans for the future. The students were then guided in using the platform's digital tools to lay the groundwork for their upcoming seminar presentations – and mastered the use of whiteboards and sticky notes almost better than in the physical world.  
The second event, held in RemioVR, showcased the metaverse as a platform for socializing, team building, and having fun. Lance Powell, the product manager at the company, gave a talk about Remio's business model and the interesting backstories behind some of their games.
To get some hands-on-experience, we worked hard to capture flags in paintball, fought orcs and dragons in tower defense, and used our grey matter in a puzzle racer – and had some serious fun along the way.
The third and final event, held in-person at the Marketing Center Münster, demonstrated the existing business value of virtual reality and virtual worlds. Benjamin Keller, a client partner at Meta, shared valuable insights into the business value that is already provided by Meta and other companies in the automotive and related industries. In his presentation and in a very engaging discussion with our students, he provided interesting insights into Meta's vision for the future and the challenges it must overcome on this journey.
With the seminar and these interactive events, we want to engage and inspire our students and lay the groundwork for a new generation of experts. If you've found some inspiration in this article, don't hesitate to apply for our next seminar or reach out to us on linkedin.